Коктейль; Манхэттен
Коктейль «Манхэттен»
Опуская все предположения о создании напитка матерью Уинстона Черчилля — Дженни Джером (которой в тот момент и в стране-то не было), доктором Айан Маршалом (завсегдатаем бара Manhattan Club) и т.п. можно наверняка утверждать лишь то, что появился коктейль во второй половине 19 века.
Письменное упоминание о «Манхэттене» относится у 1882 г. Именно тогда вышла книга Гарри Джонсона «Новое и улучшенное руководство бармена», куда был включен рецепт. Чуть позже о нем писал Джерри Томас в «Рекомендациях по смешиванию простых и необычных напитков».
IBA включила «Manhattan» в свой список в 1961 г., окрестив его «незабываемым» и классифицировав как аперитив. С тех пор он не терял позиций популярности, набирая только положительные отзывы, такие, как – фантастический, великолепный, потрясающий.
Коктейль Манхэттен (Manhattan) – незабываемое сочетание бурбона, вермута и биттера
«Манхэттен» по праву называют Королем Коктейлей, созданный более 100 лет назад он не теряет своих позиций и сегодня. Простой состав, быстрое приготовление и отменный вкус сделали его любимым напитком многих ценителей алкоголя в Америке и Европе. Большинство барменов советую начинать знакомство с коктейлями именно с «Манхэттена», так как он считается классикой, то есть образцом для подражания.
Историческая справка. Изобретение коктейля «Манхэттен» приписывают Дженни Джером – дочери известного нью-йоркского биржевого дельца Леонарда Джерома, которая после замужества стала леди Черчилль. Именно эта женщина приходится матерью одному из самых великих британцев за всю историю – Уинстону Черчиллю.
В 1874 году Дженни Джером давала званый обед в честь губернатора Нью-Йорка и кандидата в президенты США Самуэля Джеймса Тильдена. Согласно легенде она лично смешивала ингредиенты коктейля. Но нестыковка дат в биографии Дженни Черчилль (в день званого ужина она находилась в Европе) ставит под сомнение эту теорию.
Более правдоподобной выглядит версия, согласно которой коктейль «Манхэттен» придумал доктор Айан Маршал, первым смешавший виски, итальянский вермут и биттер ангостуру. Напиток получил название в честь заведения, где был создан – «Manhattan Club». Имя леди Черчилль использовалось лишь для популяризации напитка. В 1961 году «Манхэттен» включили в сборник коктейлей IBA (Международной ассоциации барменов).
Особенности коктейля
Чтобы успешно приготовить Манхэттен дома нужно знать несколько маленьких секретов:
Метод смешивания — стир. Суть метода: в смесительный стакан засыпаются кубики льда, затем заливается алкоголь, начиная с самого слабого и заканчивая самым крепким; состав размешивается по часовой стрелке и процеживается через стрейнер в подготовленный бокал. Подробнее о методах смешивания коктейлей можно почитать здесь.
Обратите внимание! Stir позволяет подавать коктейль, не добавляя в бокал лед. Методы Билд и Шейк в приготовлении напитка применять нельзя (это гибель его ароматических свойств и потеря во вкусе).
Время приготовления – 15-30 минут.
Бокал для подачи — коктейльная рюмка или мартинница.
Правильный алкоголь. В оригинале используется ржаной виски (Jim Beam rye, Bulliet rye и т.п.). Если такового нет – берите бурбон, канадский или другой виски (только не шотландский!). Марка вермута не важна – подойдет Martini, Cinzano, Salvatore и др. Если нет Ангостуры можно смело брать апельсиновый биттер или Пешо.
Интересно знать! Вермут в коктейле снижает горечь, типичную для виски, делая его более мягким и сладким. Сладость (наравне с терпкостью) дает Ангостура.
Чем закусывать Манхэттен. Здесь много вариантов – от микса сухофруктов, фруктов, шоколада и фруктовых кексов до стейков из свинины или говядины.
Способ пития — через трубочку.
Необходимые приспособления — смесительный стакан, барная ложечка, стрейнер.
Другие варианты приготовления коктейля Манхеттен
Право на жизнь получил и канадский рецепт коктейля Манхэттен. Его особенностью является наличие в составе «Бурбона» (75 мл). Вермут и биттер добавляют в том же количестве, что и при классическом исполнении. Лед в этом случае бармены не кладут и шейкер не используют.
Для получения Манхэттен бренди в рецепт напитка включают коньяк. При изготовлении аперитива «Роб Рой» используют скотч. Для кубинской версии берут темный ром. Применение «Бурбона», биттера «Пишо» и хереса «Педро Хименес» дает латиноамериканский вариант Манхеттена «Педро». Вишенку в данном случае насаживают на шпажку.
Еще как вариант можно приготовить Perfect Manhattan. Так называемый «Совершенный Манхэттен» включает в себя равные доли сухого и сладкого вермутов. Почему аперитив получил определение «совершенный», неизвестно. Возможно, кому-то он очень понравился, и хвалебное слово закрепилось за напитком.
Из чего состоит Perfect Manhattan:
Виски хорошего качества – 50 мл.
Сухой и красный вермут – по 10 мл.
Вишенка – 1 шт.
Готовят аперитив в специальном стакане, перемешивая алкогольные компоненты со льдом барной ложечкой. Затем коктейль через стрейнер переливают в охлажденный бокал и декорируют ягодкой. Готовый напиток подают к столу.
В каждой стране и каждом питейном заведении существуют свои модификации коктейля. Но местные традиции нарушают установленную классику и дают другие вкусовые ощущения при дегустации. Классический рецепт Манхэттена всегда в моде, недаром его прозвали королем коктейльного мира.
Нашли ошибку? Выделите ее и нажмите Shift + Enter или нажмите здесь
Esquire & Jefferson's Manhattan: Barrel Finished Cocktail
I have vivid memories of my parents drinking Manhattans on the rocks on special occasions when I was a child. I would beg for the Maraschino cherry (of course) and thought the taste of the booze was disgusting. I still thought Manhattans were gross until a few years ago when my husband made one. I asked for a sip and it was a different world. I don't know what changed in my tastes, but something sure did. Now I order bourbon Manhattans (usually Makers Mark) all the time. It's my go-to drink in the cooler months.
A Manhattan is typically made with whiskey, sweet vermouth, bitters and a Maraschino cherry. According to Wikipedia whiskeys commonly used include rye, Canadian whiskey, bourbon, blended whiskey and Tennessee whiskey. There is a lot of speculation where and when the cocktail was created. One theory is that the drink originated at the Manhattan Club in New York City in the early 1870s, but that has been discredited so who really knows?
Last spring Esquire and Jefferson's Bourbon launched a collaboration: The Manhattan : Barrel Finished Cocktail. The pre-batched cocktail was conceptualized in 2013 by Esquire's Editor-in-Chief David Granger and Jefferson's Bourbon founder Trey Zoeller. They joined forces to provide bourbon enthusiasts with a barrel-finished bottled cocktail that enhances the experience of enjoying the classic.
Granger and Zoeller were in search of delicious, oaky notes and a well-balanced flavor profile. So the duo and a slew of lucky Esquire staffers (I want that job) tested dozens of recipes until they narrowed down the options to just three recipes. All three options were then aged for 90 days in bourbon barrels and re-tasted to see which one stood out as a superior Manhattan . The finished product is comprised of six-year-old bourbon – 125 proof cut down to 82.3 – both sweet and dry vermouth, and barrel-aged, spiced cherry bitters.
Simply pour it over ice, strain over ice for the straight-up version or just chill and drink straight from the bottle (kidding).
"What I enjoyed most about making this Manhattan with Esquire was the collaborative process of creating a well-rounded cocktail that elevated the typical bourbon drinking experience," said Trey Zoeller . "It took us over two years of experimentation and communication to hone in on a drink we've always wanted at our home bar but was never easily available, and we were finally able to create something that is both innovative and accessible."
Jefferson's Bourbon was founded in 1997 by father and son team Trey (son) and Chet (father) Zoeller. Chet is a famed bourbon author and historian. Their collection of bourbons are made in tiny batches. The two seek out new and aged barrels of bourbon from established distilleries that have perfected distilling over hundreds of years. Then they do some old-fashioned experimenting and tweaking, building balance and adding complexity through different methods and processes until they find the taste Jefferson's is now known for. To see the whole Jefferson's portfolio and learn more about their bourbon visit jeffersonsbourbon.com.
– Lauren Dimet Waters
Sample provided for review months ago, but I was finally able to try it myself (post surgery) so opinions are my own. My husband has been sipping it for a while now and he agrees with the above.
Barrel Aged Black Manhattan
I pretty much scoffed at barrel aged cocktails, or even the thought of having a seasonal cocktail pre-mixed and stored in a decanter. It took an evening at The Office (under the Aviary) to sway my decision. The Office is sort of like the nicest basement you've ever been to. Dimly lit, leather arm chairs, and a compact (but amazingly efficient) bar. The unseen asset being the genius of the molecular gastronomist upstairs. Did I happen to mention they serve great cocktails with vintage bottle pours and as you guessed barrel aged cocktails. The 28 month barrel aged vieux carre would be the cocktail that would reverse my thinking.
Chicago is home to a number of great distilleries. About a week of persistent calls, voicemails and a handful of cold leads eventually yielded a beautiful 5 gallon barrel which housed FEW spirits bourbon. The brewing / distilling community here in Chicago is both welcoming and supportive. They are more than willingly to lend some advice.
Having safely secured my barrel, on to the next step. As it turns out, I'd need to purchase about 25 bottles of .750 ml liquor in order to fill this barrel up to the brim. Poor planning on my part. I was seeking advice from home-brew folk who were concerned with oxidization. So in order to fill the barrel, I considered reaching out to a small contingency of like minded enthusiast.Talked to the neighborhood bar to see if they were interested in doing a 90/10 split. Ultimately decided to purchase a more modest 3 liter barrel from the internet. I'd lose some Chicago authenticity, but would gain some experience with less monetary investment. I still have plans for my 5 gallon Few barrel. Oxidation isn't much of an issue so long as you are using spirits or the majority of your ingredient are spirits.
Went into my play book for the inaugural barrel aged cocktail. I obtained the recipe for a black manhattan from the bar at Nico Osteria in the Thompson Hotel some time ago. It's one of my favorite drinks with a complex profile and includes an amaro as part of the ratio. Prior to mixing and pouring, I filled the barrel with the boiling water for about an hour to ensure the barrel would swell and hold the cocktail. Let's get to the brass tax:
Barrel Aged Black Manhattan
2 liter rye (bulliet)
1 liter amaro averna
1.5 oz bitters angostura
Nico Osteria has a slightly different ratio. I upped the amaro content for the classic 2:1 ratio to keep it simple. Poured all of the ingredient into the barrel and let everything sit for about two weeks before I started tasting. The initial taste had a woody, almost balsa tone. A few days later the flavor had matured. The amount of time it took to do so, really surprised me. You have to stay on top of the tasting after about two weeks.
32 Days would be the right time for me. So I bottled and corked. The wood taste would fade and the flavors would mellow. It has a profile which is sweet and almost akin to a cognac.
The tail wags the dog. So I've serve the cocktail warm about 1.5 oz. in a tasting glass. However, a good 2 oz. in a rocks glass with an orange swarth works well too. I think it's a genre best served neat.
Everything is better with a story. So I was happy to distribute the fruits of my labor, or patience rather. I kept a liter for myself, but partitions went to close friends and a good neighbor who lost his dog the day after corking. The barrel is currently holding a negroni concoction.
How to Make a Manhattan
This is a classic cocktail that any whiskey drinker ought to know by heart.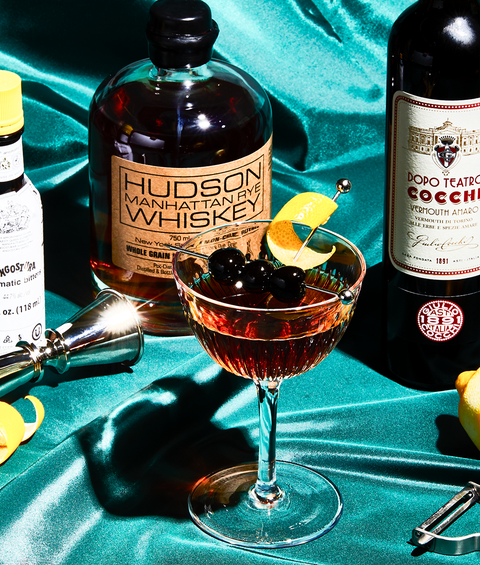 dashes Angostura bitters
Stir the whiskey, vermouth, and bitters well with cracked ice in a mixing glass until chilled.
Strain into a chilled cocktail glass.
Garnish with a twist and/or a cocktail cherry.
The Manhattan demands respect. It is brazen: a heavy pour of rye or bourbon, sweet vermouth, and aromatic bitters. It is rich, with strong flavors both spicier and sweeter. It is strong. You make it carefully, and then you sip it slowly, because it is a drink that you earn from a hard day's work. Since the very act of emerging from underneath a duvet and facing another day in your life more than qualifies as hard labor after the year we've had, that's quite a few well-earned Manhattans coming your way.
In the annals of cocktail-making, the Manhattan is an all-around heavyweight champion. There's some debate over rye versus bourbon (rye jabs sharply, so we tend to prefer it), cocktail cherry versus lemon twist or both. It's a drink that lends itself to riffing should you be in the mood. You can tinker with your whiskey and vermouth and even the ratio between to two (within reason) until the recipe you'll always place your bets on emerges. While 2 ounces of whiskey to 1 ounce of sweet vermouth is the standard, going with 2.5 ounces of rye can make for a transcendent drink. Feel free to swap out bitters for variety, but you'll find yourself coming home to Angostura 97% of the time. And an expressed lemon twist will take the drink to a higher plain. Consider knowing how to make your Manhattan is like knowing how to properly shake hands. No weak wrists for the handshake. No ice in the cocktail. Have at it.
A Little Background
You want to know why the Manhattan is called the Manhattan? Because it is one of the best damn cocktails on record, so they named it for the best damn city in the world. Well, perhaps its origin story is not quite so jingoistic, but it's close. The Manhattan cocktail's origins are commonly traced back to the Manhattan Club, in Manhattan, in the latter half of the 19th Century, where it was crafted for a party thrown by Winston Churchill's mother. As drinks historian David Wondrich points out, that's a load of bull; Lady Randolph Churchill was pregnant in England at the time of this rumored party.
But the Manhattan Club did hoard very old rye, and it did serve a Manhattan cocktail, though its recipe was different at the time. Things evolved from there. During Prohibition, Manhattans had to be served with Canadian whisky—the only whisky people could get their hand on. And, despite the years, the Manhattan is still being enjoyed in New York and all the other great metropolises. It's that good.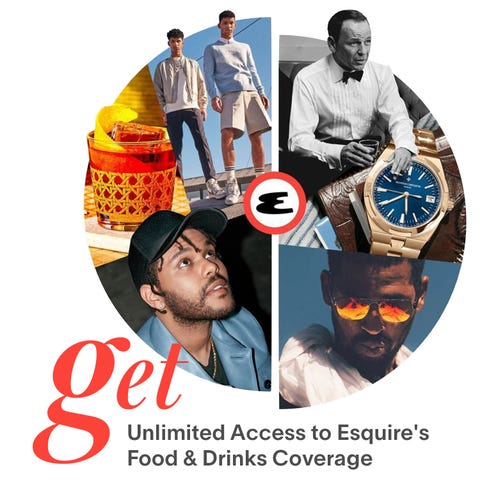 Join Esquire Select
If You Like This, Try These
The other very good, very classic whiskey cocktail that is made with rye or bourbon is the Old Fashioned. You know that one. Try a Whiskey Sour with rye, too. The Sazerac is another rye whiskey cocktail rich with history that you'll like. If your flavor preferences veer across the Atlantic, try a Rob Roy, which is a Manhattan made with scotch. And this is cool: the Manhattan has a New York borough neighbor, the Brooklyn cocktail, that's made with rye, dry vermouth, maraschino liqueur, and Amer Picon.
On a parting note, we give you a formula to batch your Manhattan so you can keep a premade jug of it in the freezer. Because while one Manhattan is nice, a weeklong supply of Manhattans is pure efficiency.
How to Make Three Perfect Barrel-Aged Cocktails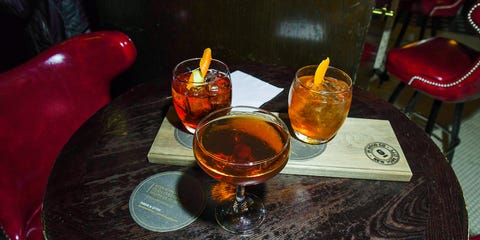 There's no better way to survive the cold weather than with an expertly crafted cocktail. In particular, a barrel-aged cocktail, which has a smoother taste than most cocktails. The best part? These batched cocktails only have a handful of ingredients, so they're easy to make in advance of a big party and they'll always be a hit.
For the uninitiated, barrel-aging is an easy way to create flavorful cocktails. Pour your base mix into an aging barrel, wait two weeks, and you've got a simple but unique beverage. While you can do it from the comfort of your own home, we were inspired to give this a shot after visiting Parker & Quinn, an awesome Midtown Manhattan American restaurant. So tasty were their barrel-aged cocktails, we asked them to share their secrets.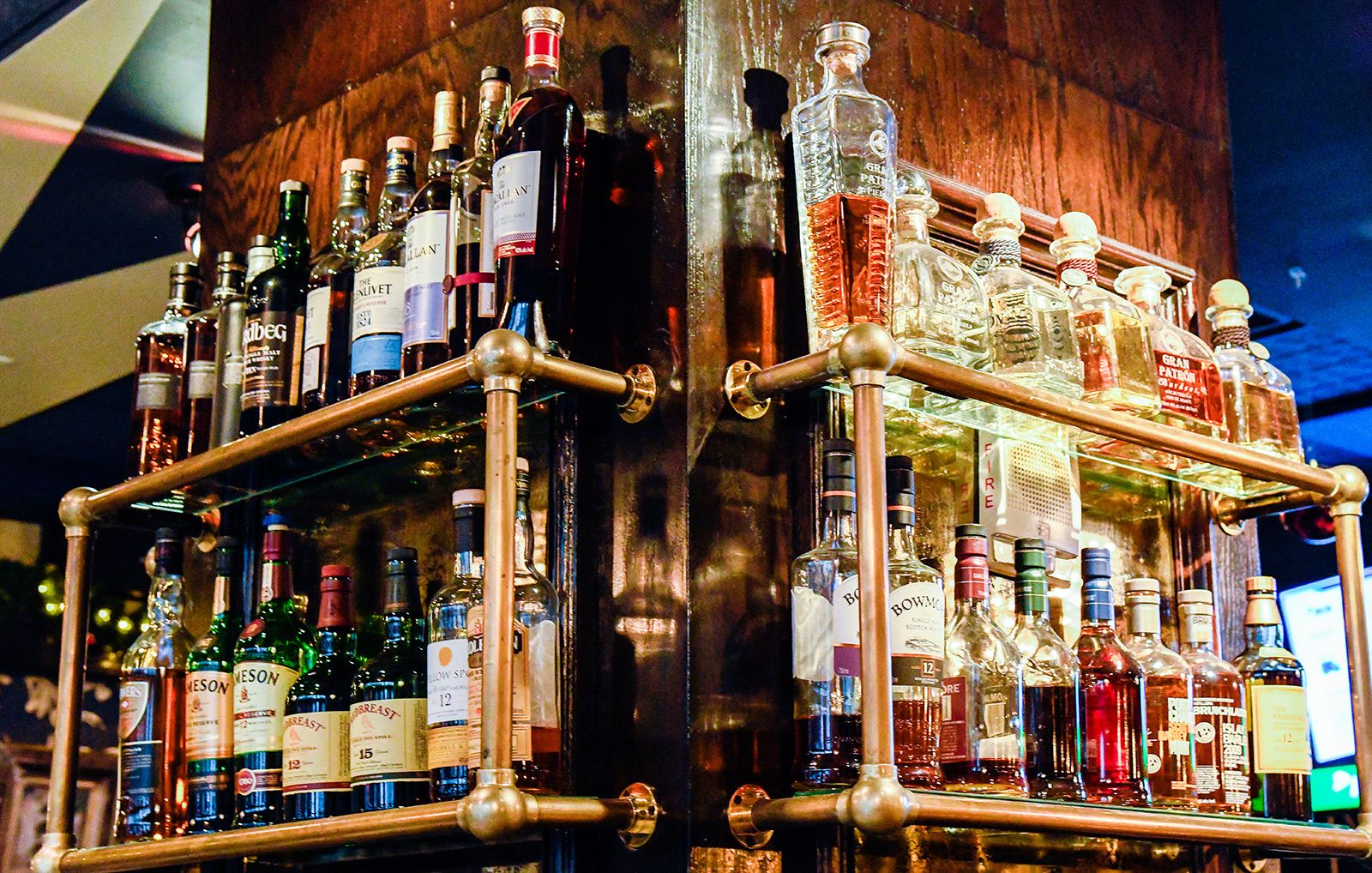 «It's pretty easy,» says Dominick Costa, Parker & Quinn manager. «It can be the perfect feature for cocktail parties or just to keep at home for a night cap after a long day. You'll need a one-liter American Oak barrel with a light char, to start.» (These barrels can be purchased from a number of online retails and they're relatively cheap. We love Amazon's Premium Charred American Oak Aging Barrel which is only $64.95.)
First, fill the barrel with warm water and let it sit for 24 hours. «This helps ensure the barrel will seal nice and tight,» says Costa. After, you can get to mixing. You'll want to allow about two weeks for your mixture to properly absorb the flavors of your barrel. It's that easy, we promise.
As for what to fill it with, Lamar Curtis, Parker & Quinn's expert barman, has you covered. His beverage menu, similar to the seasonal dining menu, focuses on quality and authenticity. From the classic Manhattan to a modern take on the Negroni, these cocktails will keep you warm and cheery all winter long. (Incidentally, all are named for iconic Manhattan-based films.)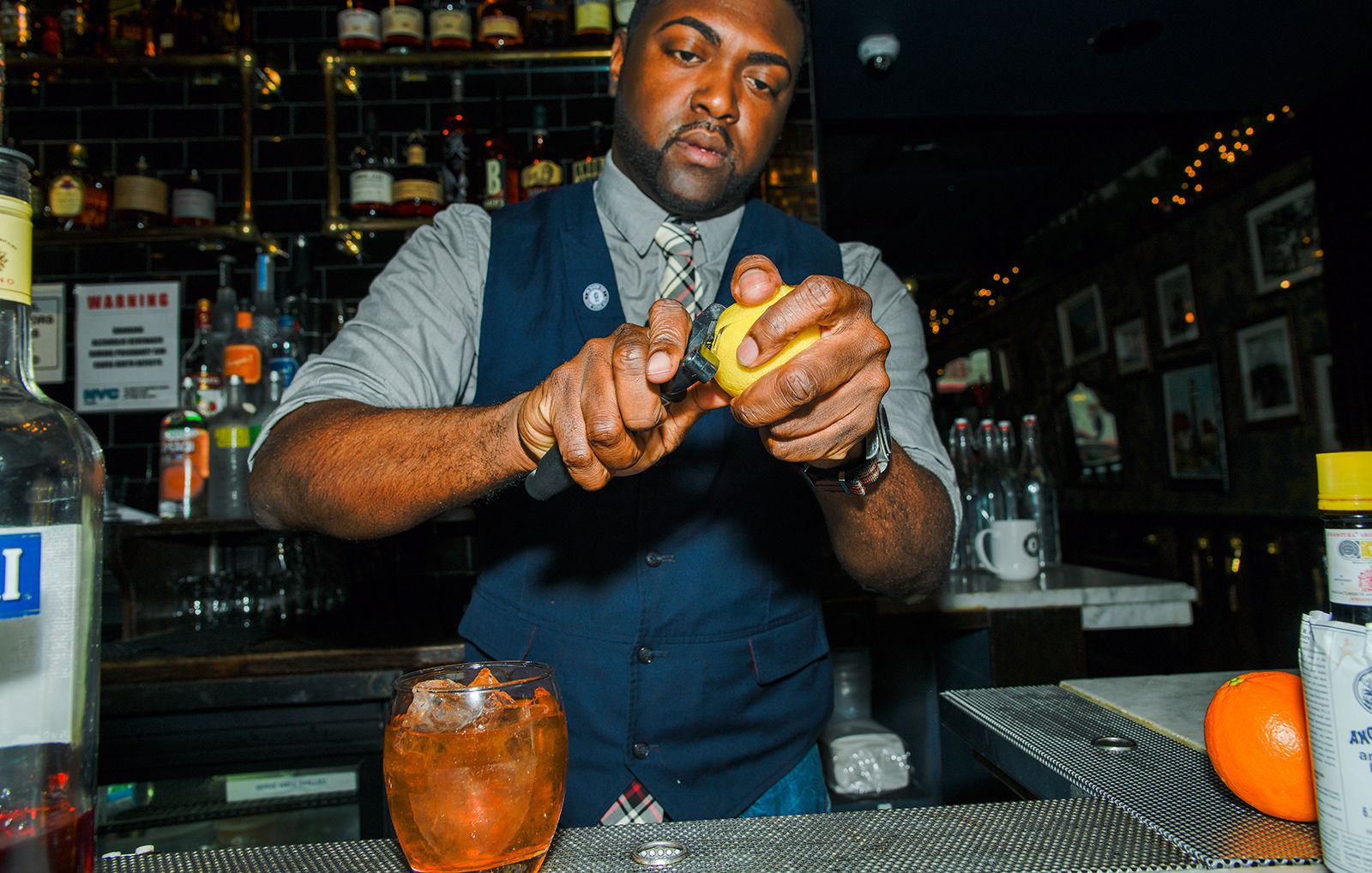 25 oz. Mount Gay
¾ cup of sugar
1 tsp Angostura bitters
1 orange cut into half wheels
How To Make:
Combine the bottle of rum, sugar, and orange wheels. Stir until the sugar fully dissolves. Cover and let sit overnight. Next, strain the mixture using a coffee filter so no pulp remains. Transfer the strained and infused rum to a 1-liter barrel and let sit for about two weeks. After two weeks, empty the barrel and add Angostura bitters. Keep in an airtight bottle until ready to serve. Be sure to serve over ice.
«Most people prefer a bit of orange in their Old Fashioned, whether it's from bitters, orange oil, or muddled fruit so this recipe expertly infuses the aged rum with fresh orange wheels to create a drink that's refreshing and perfectly balanced,» says Curtis.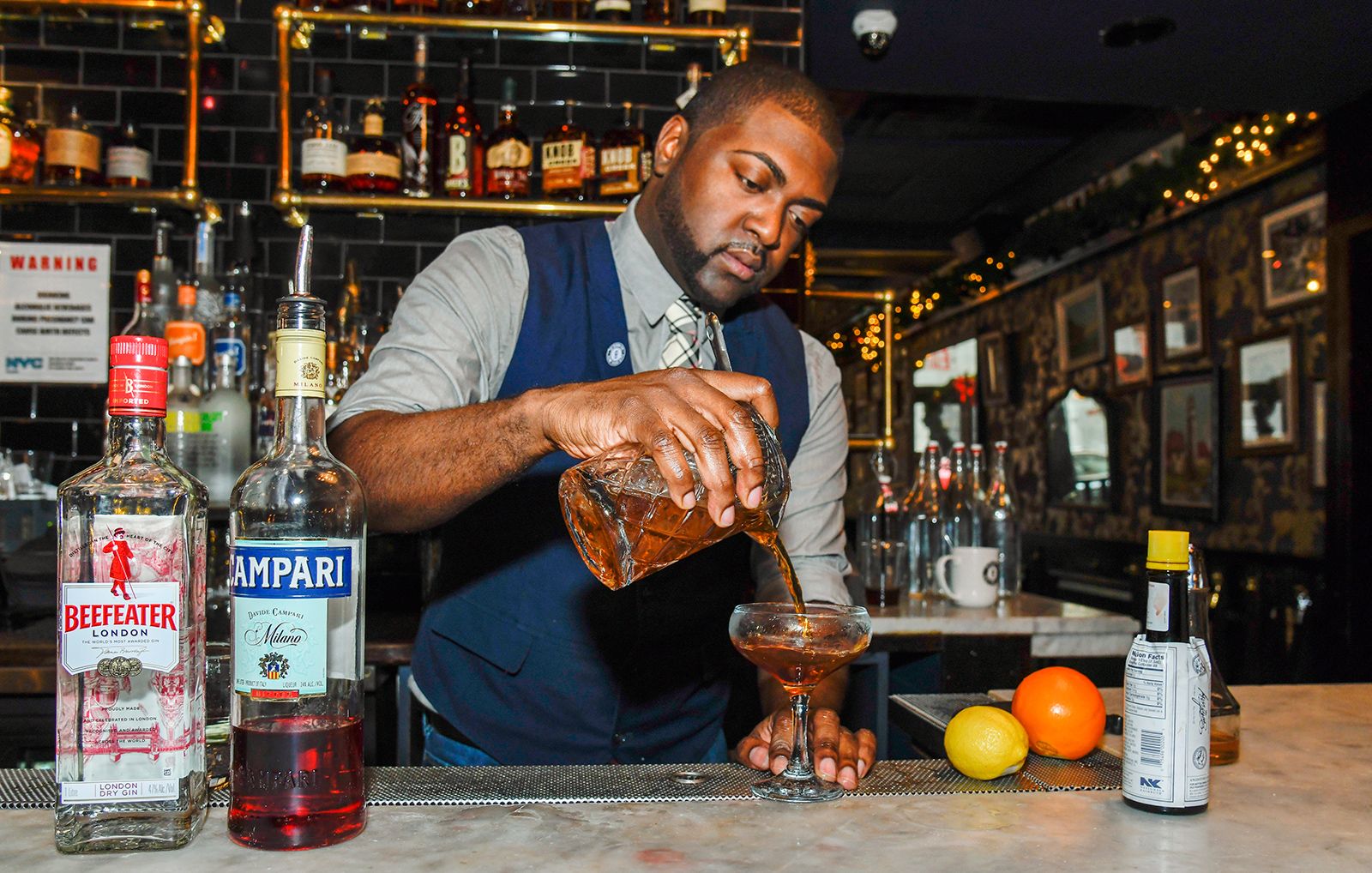 22 oz. Hudson Bourbon
11 oz. Sweet Vermouth
1 tsp Peychaud's bitters
How To Make:
Combine bourbon and sweet vermouth and allow the mixture to sit in a 1 liter barrel for about two weeks. After two weeks, add 1 tsp of Peychaud's bitters. Store in an airtight bottle and keep refrigerated. Serve over ice.
"When you barrel age a Manhattan, it allows the vermouth to subtly oxidize while the high proof whiskey base pulls out complex, beautiful flavors from the barrel. What results is an intense, robust cocktail that is the perfect companion for a cigar or a hearty cut of meat" adds Curtis.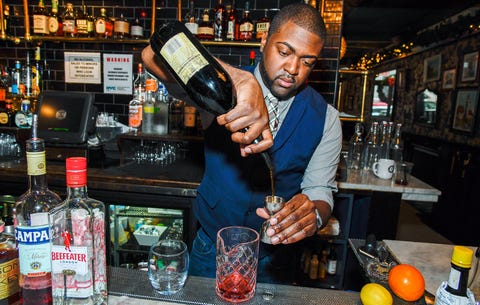 17 oz. Hendrix Gin
8 oz. Amaro Montenegro
8 oz. Aperol
How To Make:
Combine gin, Amaro Montenegro, and Aperol in a barrel and let sit for about two weeks. After two weeks, transfer to an airtight bottle and keep refrigerated. Serve over ice.
«The Taxi Driver is a variation on an italian classic, but with a slightly sweeter taste. Barrel aging has a dramatic result on this cocktail (the gin is un-aged), so the flavors from the barrel will seep through and add a warm, oaky essence to the drink,» says Curtis.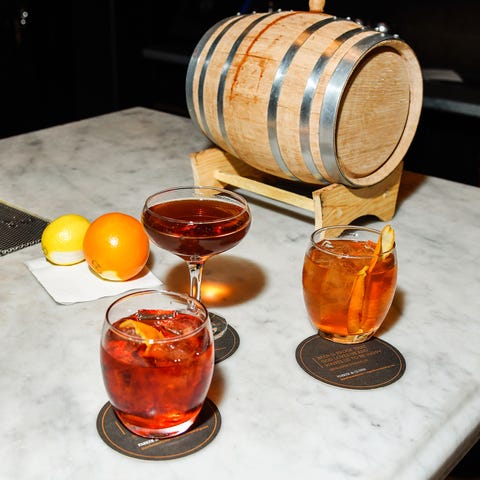 Bear in mind, you can use your barrel for up to three fills. «After that the wood has pretty much given all it has. The barrel will absorb some of your cocktail so it's best to refill your barrel with something similar to what was previously in it. You'll also want to double the time you let your cocktail rest in the barrel after each fill,» shares Curtis. «We also encourage you to save a taste of the un-aged cocktail in your fridge and compare it to the aged result so you can see the effect of the barrel.»